The space that needs cooling in a restaurant will vary from small to large. The most significant spaces are the dining room and kitchen. The smallest space is the office. Choosing the right air conditioning system for your restaurant depends on the size of the space you are trying to cool. Most air conditioning systems are loud and may even drive some customers away. Therefore, it is important to consider the noise level of the unit you are considering.
Multi-split systems
A restaurant has multiple rooms and needs a system that can keep each area cool. A multi-split unit will have multiple indoor units connected to one outdoor unit, similar to a ducted system, but will allow you to control the temperature in each area. Multi-split units can be more affordable than central systems, and wall-mounted ones are easy to install. Installers can retrofit them into any existing space.
There are several reasons why multi-split commercial air conditioners are the most efficient. Compared to conventional systems, these systems are less intrusive. Outdoor mini-split units are less obtrusive, while flush-mount ceiling cassette units are less noticeable. Mini-split units are also more energy efficient than conventional systems, and they can operate at extremely low decibel levels. This means that even in high-use areas, the noise level remains low and the unit can function quietly.
The most common commercial air conditioning systems are single-split systems. They are cost-effective, easy to install, and can provide enough cooling for a small space. These systems can also be split between multiple rooms. In these cases, a single system serves multiple spaces. These systems allow you to separate the cooling and heating from each room and continue working without interruption. However, the most efficient multi-split systems are best for restaurants.
For larger buildings, multi-split systems use variable-refrigerant volume (VRF) systems. These systems have a single outdoor unit and several indoor units. These systems are more energy-efficient than single-split systems, but can take more space in the outdoors. Moreover, multi-split commercial air conditioners are the most energy-efficient systems for restaurants.
Mini-splits are more affordable than PTACs, but they lack ventilation and can only provide cooling. PTACs and mini-splits can provide ventilation, but they require separate installations. They are both highly efficient, but mini-splits are easier to install and have a smaller wall opening. They also operate silently, allowing you to sleep without interruption.
Wall-mounted split systems
This is a common choice for smaller to mid-sized establishments. These systems include a condenser, outdoor compressor and indoor components such as an air handler, cooling coil, and optional heating section. These units are efficient, reliable and easy to install. They are also easy to maintain and can minimize the overall installed costs. If you are looking for a commercial air conditioner that will last for many years, a wall-mounted split system is a great choice.
Wall-mounted split systems are the most common type of air conditioning system for restaurants. This type of commercial air conditioning unit requires very little installation, and only requires a hole in the wall to attach the unit. Commercial air conditioners function based on the principles of thermodynamics, heat transfer, and fluid mechanics. They regulate temperature using various HVAC elements. The air quality inside a restaurant can significantly affect customer satisfaction. If you own a restaurant, finding the best air conditioner for your establishment is essential.
If you are in an area with extreme temperatures, mini-split systems are not the best choice. These units are designed to keep the interior temperature comfortable in extremely cold climates, though they may not be enough to keep the entire building comfortable. A mini-split may not be sufficient in a frigid climate, but newer models are designed to run in a negative temperature range.
Ductless mini-split systems are another option for commercial air conditioning in restaurants. These systems are a cost-effective alternative to a ducted system. Ductless mini-splits can be installed in new construction or additions. They can also be used in ducted systems if there are multiple rooms in the building. These systems have a variety of applications and are available in different sizes. Opt for the experts whom you can rely to install your air conditioning. Temper Troops has been offering Commercial Air Conditioning installation to Sunshine Coast, Caboolture, and Brisbane locals trust.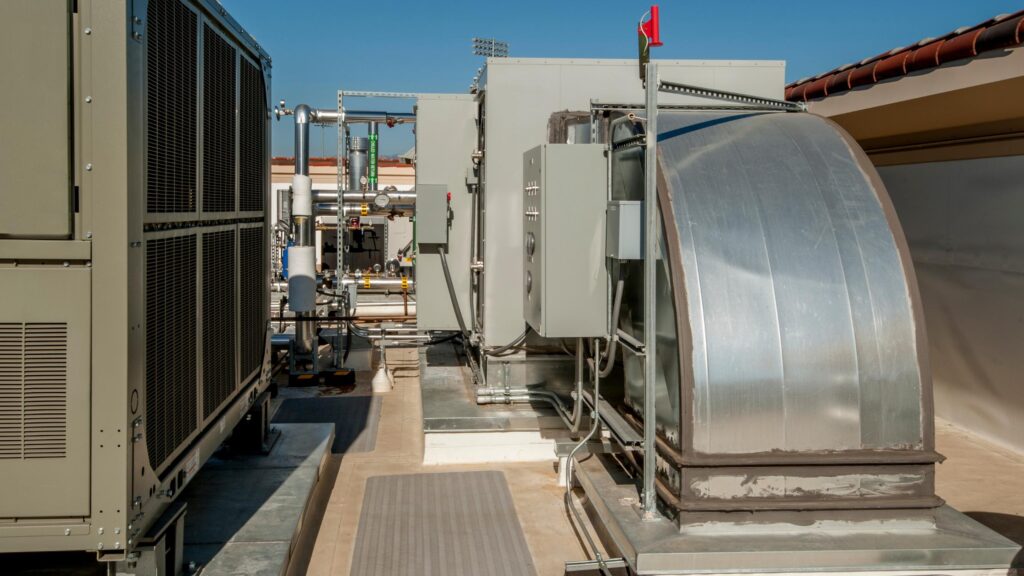 Mitsubishi's VRF system
When choosing an HVAC system for a restaurant, consider the size and style of your space. Many small businesses have uneven air circulation and need to be kept cool. If you can install a Mitsubishi air conditioner, you will find it very energy efficient. Restaurants often need a high-efficiency air conditioning system that will not only keep the temperature constant but also help you save on electricity costs. Moreover, Mitsubishi makes certain to install the best commercial air conditioning system for any space.
While the aesthetics of ductless systems may not be of great importance for some businesses, they can benefit from them. Ductless systems can reduce the need for large mechanical rooms, allowing commercial facilities to maximize space and avoid expensive maintenance. While ductless systems are less attractive, they are more efficient and can be aesthetically pleasing. In addition, you can choose the color of the outdoor unit to match your restaurant's decor.
Another reason that Mitsubishi's VRF commercial air conditioner system for restaurants is most energy efficient is because it is highly reliable. Compared to traditional HVAC systems, VRF units have a greater energy efficiency rating, allowing them to earn you credit for reducing energy costs. This means your restaurant will be more profitable while spending less on electricity. If you are looking for the most efficient commercial air conditioner system, this might be your best choice.
If you have a restaurant that has fluctuating temperatures, you'll find that a VRF system is the best option. A VRF system has intelligent indoor units that can automatically adjust the amount of heat in different zones, giving you maximum flexibility when choosing the right HVAC system for your space. It is also quiet and complements any decor. In addition to being highly energy efficient, VRF systems are easy to install, so you can install them yourself.
Although energy efficiency is the primary consideration for a commercial HVAC system, it's also an important factor to consider the cost of installation and maintenance. For instance, VRF systems require little to no maintenance compared to conventional HVAC systems. With VRF systems, you only need to change filters and clean the coils in the fan coil units. Traditional air conditioning units require frequent inspection and maintenance. As a result, you can save a great deal on labour and operational costs by choosing a VRF system.
Mitsubishi's wall-mounted split system
The Mitsubishi Electric Ductless Mini Split System is a popular choice among restaurant owners for its low-noise operation. It is a multi-zone system that is capable of controlling the temperature in different rooms. Because of its energy-efficient design, the Mitsubishi Ductless Mini Split System is ideal for restaurants because it is compatible with up to eight indoor units. Unlike traditional systems, this type of unit is more affordable and can save you money on energy bills.
In addition to its energy-efficient features, the Mitsubishi Mr Slim PKAA30KAL+PUZA30NHA3 wall-mounted mini split heat pump system is designed to improve the comfort of restaurants. It uses quiet DC motors that are very effective at lowering energy costs. Mitsubishi's wall-mounted split system offers 30,000 BTU of heat in the winter and up to three tons of cooling during the summer. It is also equipped with a PAR wireless remote control.
The Mitsubishi Mini Split is an energy-efficient and compact wall-mounted system. Installation involves mounting the indoor and outdoor units and connecting the refrigerant lines. Installation is a quick process, and the Mitsubishi Mini Split is easy to use. Its ductless design allows it to be partially recessed in the wall, making it the ideal choice for restaurants and retail spaces. It is available in a variety of sizes and configurations.
In addition to minimizing energy costs, the Mitsubishi Wall-Mounted Mini Split is incredibly flexible. It allows you to set temperatures for each zone, allowing you to regulate the temperature for individual guests. For restaurants, Mitsubishi has designed a special system that can be used to control temperatures in various rooms. By setting the temperature in each zone, Mitsubishi has ensured maximum comfort and energy savings.
The Mitsubishi Electric Mini Split System is highly efficient and flexible, which makes it a great option for commercial businesses. The Mitsubishi Electric Mini Split System does not require ducts and delivers heated and cooled air directly to the rooms. It's also the most energy-efficient choice for restaurants. The ductless system from Mitsubishi Electric is available for all types of restaurants. If you're looking for the most energy-efficient system, choose the ductless Mini Split System.